Conducting a financial health check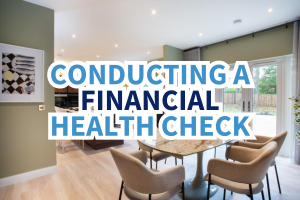 Conducting a financial health check
One of the first tasks to undertake is to conduct a financial health check.
What is a financial health check?
A financial health check is a report of your financial status and steps you can take to improve your finances. Many banks and building societies offer this service for free, but they are often tailored to promote their financial products. You can also use the interactive online tool from the Money Advice Service.
What does a financial health check entail?
Usually, a money health check involves you answering a few questions about you, for example:
your employment status
details of your family life, e.g. partner and dependents
how far your money goes
how much debt you have
your savings and investments
life insurance policies
The results will provide insight into the steps you can take to improve your finances in preparation for home ownership. This may include debt management, advice regarding savings and life insurances.
Why should I undertake a financial health check at the start of my journey?
It is important that you get a picture of how a lender may see you in terms of risk. If your score is of concern, you'll need to take steps to address this before you can apply for a mortgage. This may take some time if you have a lot of debt or you need to change your circumstances in order to lower your risk.
Once you've completed this step, you will also need to review your credit score.
Where can I do a financial health check?
There are plenty of tools you can find online, or if you prefer you can speak to your bank or other financial institution. As with your credit score, you don't need to pay to conduct a check, but there may be paid-for checks that could give you further insight. Before you pay for a service, make sure it's with a reputable company and that you can't get the same level of detail and advice for free elsewhere.
Here's are some free finance tools you can use online:
Disclaimer
newhomesforsale.co.uk is not a financial advisor, mortgage broker or mortgage lender. Always get financial advice before making significant decisions about your money, mortgages and buying a house.