What is Shared Ownership?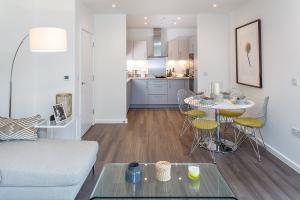 What is Shared Ownership?
Are you wondering if the Shared Ownership scheme is right for you? Confused as to what Shared Ownership means? We break down the key things you need to know.
Shared Ownership is available to first time buyers AND those who've previously owned a home
Yes, if you've owned a home before you can still take advantage of the Shared Ownership scheme, the only stipulation is you cannot currently own a home and you must be earning less than £80,000 (or £90,000 if you live in London).
You can own between 25% and 75% of your home, and pay rent on the rest
So if you own 50%, you'll take out a mortgage for half of the value of the home, and pay rent on the remaining half at a cheaper rate than the open market. You'll usually pay rent to a Housing Association or similar organisation.
You can buy more shares if you want to
If your circumstances change over time, and you want to buy more shares in your home, you can do so in increments of 10%. This is called Staircasing. You can eventually own your home completely by buying all of the remaining shares.
You'll still need to have a deposit
To get a mortgage for the portion of the shares you will be buying, you'll traditionally need to have a deposit equal to between 5 and 10% of the mortgage value. Due to the effects of Coronavirus on lending, you may require a larger percentage of deposit. Speak to your mortgage advisor or lender for the latest information about mortgages.
Usual fees apply
Legal fees are still applicable for Shared Ownership properties. So factor this in to your budget before committing to buying.
Shared Ownership properties are always leasehold
This means you'll only 'own' the property for a fixed period of time. Often this is far longer than you'd want to live there, but make sure you find out how long the lease is before you buy as it may impact your mortgage application. Many leases of residential property are granted for a term of 99 years.
Your credit history may affect your eligibility
Make sure you are aware of your credit score and any factors which may affect it. It's important to demonstrate you're able to manage your money efficiently, no matter how much you earn.
Unlike rental properties, your home is yours to decorate as you wish
It may be confusing, as you're paying rent on your home, but you will be able to decorate your home however you like. Depending on the property there may be restrictions on major structural work, so be sure to check before you buy.
If you're over the age of 55, you'll be eligible for the Over 55's Shared Ownership scheme
Buying a Shared Ownership home is still possible if you're over the age of 55, but you'll only be able to own up to 75% of your home. There are other schemes for those with long-term disabilities, and for key workers.
You might not have to pay Stamp Duty
Usually, you won't need to pay Stamp Duty until you own 80% of the home, saving you money at the time of purchase, which can make things a lot easier.
Shared Ownership schemes vary by country in the UK
The information above relates to buying a Shared Ownership home in England. Please check your government information if you live in Scotland, Wales or Northern Ireland.
This article is for informational purposes only. Please speak to a mortgage advisor, Housing Association or a mortgage lender for further information.
Find out more about Shared Ownership:
gov.uk - Affordable home ownership schemes
moneyadviceservice.org.uk - Shared ownership housing schemes explained
which.co.uk - Shared ownership