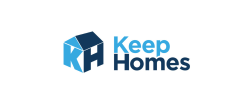 About Keep Homes
Keep Homes provide affordable homes to eligible low and middle income earners, to help get them onto the property ladder.

We like to do things differently from everyone else, so we have created a ground breaking way for you to purchase, and truly own, Your Keep Home.

No rent - We don't charge rent on the portion of the home that we still own - this is your home, you shouldn't feel like a tenant
Cost share - We will pick up our share of the maintenance/service charge costs. I.e. if you own 60% of your home, you will only pay 60% of the costs - why should you pay for something you don't yet own?
Route to ownership - We facilitate streamlined and straightforward 'staircasing'
Price freeze - We even freeze the price of your home meaning you know exactly how much you can 'staircase' without the need for a formal valuation - we want you to fully own your home!

As we don't charge rent on the bit you don't own, we would normally expect you to purchase a larger percentage of the home on your initial purchase when compared to traditional shared ownership.

We will be here every step of the way to make your dream of full ownership a reality!