All the latest information from all the best house builders all in one place...
Help to buy
Find out all you need
to know about the
Help to Buy scheme
Shared Ownership
Find out all you need
to know about
Shared Ownership
Help to buy ISA
Find out all you need
to know about the new
Help to Buy ISA
Your dream new home is just a click away
From first time buyers to established homeowners making their way up the property ladder, there are few things as life changing or exciting as finally finding and buying your perfect property. New Homes For Sale, the UK's leading new build homes website, is dedicated to bringing you one step closer to your next house, flat or apartment. With information from leading house builders, free buying guides and a comprehensive database of houses for sale, finding the best has never been easier.
Search your way
Whether you know exactly where you want to live and just need to find the perfect home, or you're looking for something particular like a retirement apartment with assisted living, there's a way to search that suits you. Filter by location or development, see where your new home is, and download property information and online brochures direct from the developers.
Be the first to know about the new homes being built in your area.
Get the very latest special offers, incentives and updates here.
Keep me informed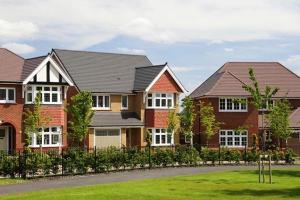 Property Prices in Exeter Over the Last Five Years
Have you ever wanted to escape the rat-race and move to the South-west without living in a rural location? If so, Exeter is an ideal option. Devon's capital city sits close to the coast, offering residents easy access to some of the country's best beaches and National Parks, whilst having a thriving cultural scene and a bustling city centre. read more
Homebuilder News
Bowland Meadows from Barratt Homes offers a wonderful collection of 3 and 4 bedroom homes in the perfect location for families and commuters. The development is ideally situated with schools and other amenities all within walking distance and is only 30 minutes from Preston city centre. read more