All the latest information from all the best new home builders all in one place...
Help to buy
Find out all you need
to know about the
Help to Buy scheme
Shared Ownership
Find out all you need
to know about
Shared Ownership
Help to buy ISA
Find out all you need
to know about the new
Help to Buy ISA
Your dream new home is just a click away
Whether you're a first time buyer or an existing homeowner making your way up the property ladder, there are few things as life changing or exciting as finally finding and buying your perfect property. New Homes For Sale, the UK's leading new build homes website, is dedicated to bringing you one step closer to your next house, flat or apartment. With information from leading house builders, free buying guides and a comprehensive database of houses for sale, finding your perfect new home has never been easier.
Search your way
Whether you know exactly where you want to live and just need to find the perfect home, or you're looking for something from a particular home builder, there's a way to search that suits you. Filter by location or development, see where your new home is, and download property information and online brochures direct from the developers.
Be the first to know about the new homes being built in your area.
Get the very latest special offers, incentives and updates here.
Keep me informed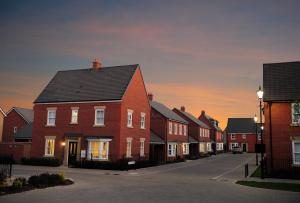 Is Bedford a Property Hotspot?
Bedford has a great location in the centre of the country, with good rail links to London and Brighton, not to mention the northern cities (via Derby or Sheffield). However, there's more to this county town than convenient commuting. Bedford is fast becoming a property hotspot, thanks to its pleasant community atmosphere and its wide range of amenities. read more
Homebuilder News
Mains of Culduthel is a development made up of a collection of three and four bedroom homes with terraced, detached and semi-detached styles available. At just 3 miles from the centre of Inverness, these homes are in an ideal location for growing families. read more